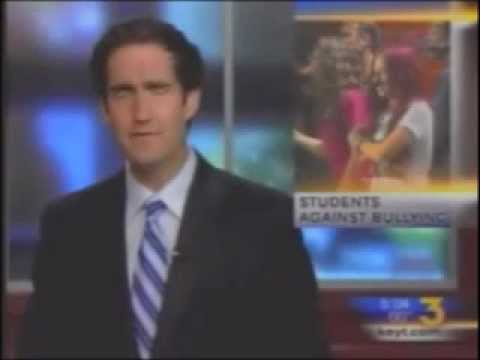 Santa Barbara's KEYT-TV aired a story on May 13 about iChoose on their Key News at 11 program entitled "Powerful Performance Highlights Bullying Prevention" (http://www.keyt.com/news/local/93721784.html.) The newscast reported on how moved the students were to hear the cast's true experiences, commenting: "The group highlights three key categories of bullying: physical, verbal and lesser known passive violence, which includes spreading rumors, belittling and choosing not to do something or intervening… Just about everyone in the audience raised their hands when asked if they experienced some sort of bullying."
Earlier on May 13 at the local Bishop Diego Garcia High School, an independent Catholic co-educational secondary school, more than 600 students and faculty witnessed the iChoose performance in the school's gymnasium. Father Elewaut, from Bishop Diego Garcia High School (who also invited students from three other nearby schools – Anacapa, Notre Dame and St. Raphael) said, "The musical portion was first-class and outstanding. Even in our private, faith-based school, there are those who are immature and who have to learn to respect other people. The panels and performance segments of iChoose continually remind us of the need to win over the tendency toward violence. Each of us makes choices in how we will treat other people, and we have to take ownership for those choices. What Dr. Ikeda stated is so true, that, even if only in little ways, we touch the hearts of one another. It is like being in a dark room and you light one candle from which another candle can be lit. Soon, there is a bright light."
Steve Nipper, a board member of Anacapa School reported that two days after the iChoose visit a verbal altercation took place on campus between two young men. One suddenly remarked to the other, "This is passive violence." They nodded in agreement and moved on without further incident.
Earlier in the week, on May 10, iChoose visited two schools in Riverside's Moreno Valley area. First, some 700-plus students and teachers at Canyon Springs High School had a visit from the iChoose team in the school gymnasium.
Patrick Kelleher, executive director, division of personal services for Riverside County, said: "Not only was the performance entertaining to the students, but the content and substance was so important for them at this time. Over the last 30 years that I have served in education, the lives of the students have changed dramatically. They are beset by all kinds of difficulties involving violence, bullying, etc. Today's performance afforded students the opportunity to consider the support system around them and their own inner strength or potential with which to counteract the difficulties they face in daily. I highly recommend it to any other school district. It will have a real impact on reducing violence and bullying on school campuses."
Tammy Guzzetta, principal of Canyon Springs, said: "I think the kids of today's generation are exposed to so much violence. They see it on TV, in the movie, and even at home. That's how they think the world is. But iChoose has helped students to realize that all cultures can and must live together. We would like to have you back next year."
Later that day, more than 300 students and teachers at Valley View High School attended the iChoose performance in their school theater. Kristen Hunter, principal of Valley View High School, said: "Our students seemed to relate to the performance very well. The three experiences make it more real, beyond their merely being actors on a stage."
More than 500 students and teachers at Ulysses S. Grant High School in Valley Glen attended the iChoose presentation at their school on May 14. According to Ron Goldstein, a teacher at Grant High School: "This is a tough audience, 500 high school students were just told to come. But you won them over. I think there will be a lot of talk about this for days and weeks to come. Some don't know how to deal with their emotions. You made them feel uncomfortable in a good way. I think this will inspire some thought, start some conversations. And that's what we want. We rarely get that kind of attention in an assembly. I hope we can do it again."
The following are some of the students'comments:
Morgan Fowler: "When I first walked into the assembly, I thought, Oh no. But it was really good. It really showed me that even though everyone looks different, we are all the same."
Patricia Caldwell: "I liked the performers' energy and the way they told about their life experiences. Their stories caught my attention because I've been going through a lot of same stuff myself."
Albert Torosyan: "This was one of the best assemblies I have been to since I started school. I feel like I can relate to people over there. It made me think a lot about the subject, and I feel more open to talking about it."
Mario Lopez: "It helped us to open our eyes, to see things differently, you know. That's what we need. One person can start helping another."
On May 12 during their tour throughout Southern California logging many miles, exchanging goodwill, friendship and the reaffirmation of building a peace for humanity, the iChoose team enjoyed a brief moment of relaxation at the home of Steve Nipper and community leader Lori Zahn. Joining Mr. Nipper and Mrs. Zahn in welcoming the iChoose team were fellow hosts and community builders Lenore Palmer, David Nipper and Sandy Hotchkiss.
The iChoose program completed a tour of 11 Southern California schools on May 14. The schools visited were:
April 30 – Horace Mann Middle School, Los Angeles
May 3 – Huntington Park High School, Los Angeles,
May 4 – Palisades Charter High School, Pacific Palisades
May 7 – Van Nuys Middle School, Los Angeles
May 11 – Canyon Springs High School, Riverside
May 11 – Valley View High School, Riverside
May 13 – Bishop Garcia Diego High School, Santa Barbara
May 13 – Anacapa High School, Santa Barbara
May 13 – Notre Dam School, Santa Barbara
May 13 – St Raphael School, Santa Barbara
May 14 – Ulysses Grant High School, Los Angeles